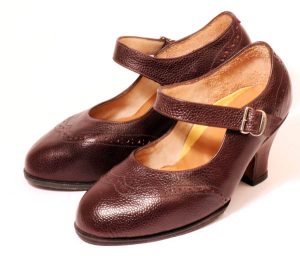 Bill Bird Shoes in Gloucestershire is experienced in dealing with the problems caused by rheumatoid arthritis. Our talented bespoke shoemakers are skilled at designing comfortable, stylish shoes and boots without compromising the fit and comfort.
We are adept at caring for people with rheumatoid arthritis by making made-to-measure footwear because when this condition severely affects the feet, finding the right shoes and boots can become a major problem.
Our footwear is soft and suppotive
Rheumatoid arthritis is an inflammation of the joints caused by disease rather than worn cartilage. It often affects the joints of the feet and hands and can cause severe shape problems.
Footwear needs to be soft and supportive under the whole of the rear-foot. It needs to hold the foot gently but securely around the instep and it needs to give room, free from seams, over the toes.
Many types of our comfort footwear are designed with rheumatoid arthritis in mind. They are soft and roomy and are often designed to take full contact, prescription insoles made by hospital technicians.
Having the right shoes matters
"Thank you so much for the most comfortable shoes – they have made a terrific difference to my life." M.E, Gloucestershire
A study carried out at Salford University on the benefits of therapeutic footwear found that while it was beneficial in reducing the foot pain associated with rheumatoid arthritis, and improving mobility, many did not wear them.
The study found that women have more complex needs in relation to the appearance of footwear in comparison to men. For men, they found the replacement of existing footwear did not have as much impact because it closely resembled footwear they would normally wear.
We do our utmost to make shoes our clients love
Contrastingly for the women, the loss of femininity imposed by the appearance of the footwear impacted on many facets of their lives having much more of a negative impact on their emotions and activities than previously acknowledged.
We take a collaborative approach to designing bespoke footwear. We do our utmost to make shoes that our clients love, treasure and get pleasure wearing.
For example, we have found that an interesting sandal with a full contact soft insole and strategically placed straps can do a lot for a woman's lifestyle and boost her self-esteem as well.
Choosing the right footwear
Arthritis Research UK is a registered charity that exists to prevent the onset of arthritis, develop a cure for arthritis and transform the lives of those with arthritis – now and in the future – by building, applying and sharing knowledge.
There is a wealth of information on its website and an excellent section about feet and footwear. Here is a link to a page that offers a wealth of information about choosing footwear and the factors to consider when buying shoes.
If you or a loved one has rheumatoid arthritis and you would like to find out how we can help, please do drop us a line.