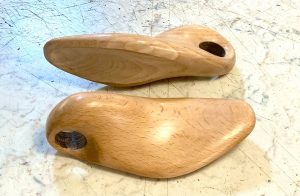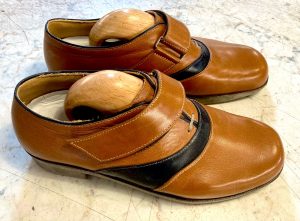 We thought our blog readers might be interested to see a pair of hand-carved, Henry Moore-styled shoe trees that have been crafted by Bill Bird at our workshop in Blockley, Gloucestershire.
They have been carved out of a single piece of beechwood, hollowed and carnauba-waxed polished. As well as being beautiful in their own right, shoe trees can double the life of your made-to-measure footwear from Bill Bird Shoes in the Cotswolds and London.
Hand crafted by our bespoke orthopaedic shoemakers, the shoe-tree replicates your last – the wooden blocks around which your shoes are made.
Shoe trees are easy to get into and out of your shoes. Every time the shoe tree is placed back into your shoe it reforms it, taking it back to its original shape. This helps avoid creases forming  at the front of the shoe or boot, keeping them smooth and new-looking.
If you would like to find out more about our handmade shoe and boot trees, please get in touch. You can email or call us on 01386 700855 – we look forward to hearing from you.