"Without sounding too dramatic, Bill has changed my life."
"Bill has given me the confidence to go out there, feel good and not feel like people are looking at me. I hardly have any problems with my neck or back anymore either," Carole Arnold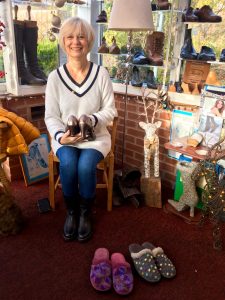 At just 18 years old, Carole Arnold was involved in an horrific car accident where she was thrown through the windscreen. She had 300 stitches in her face, a fractured shoulder and her femur was destroyed. Carole spent nine months in hospital in traction and it was 18 months before she could go back to work. As a result of the accident and subsequent operations, Carole has a difference in the length of her legs.
"I have known Bill for more than 20 years. He's full of character and is such a lovely man – and without sounding too dramatic, he's changed my life.
It was my then husband-to-be who sourced Bill. Until we found him I had been having NHS shoes but I was only allowed three pairs a year and they kept on having to be altered. As well as causing pain to my neck and back, they were not doing my self-esteem any good; my confidence was at rock bottom.
I had two pairs of shoes specially made for me by Bill when I was in my 30s and they are brilliant – I've still got them and I still wear them! He makes lovely shoes.
He also explained that I could have off the shelf shoes adapted to accommodate my needs. I had found a cream pair for my wedding day and Bill did a perfect job. It was amazing for me to be able to walk down the aisle in a pair of shoes I loved that made me feel absolutely wonderful. It made part of my day.
I've since had lots of pairs of shoes, walking boots and slippers adapted – in fact, I've not found a pair of shoes he can't fix. He explained the kind of shoes that he's best able to adapt and I am careful with what I choose, considering the height and shape of the heel. I am a self-employed management accountant, so it is important for me to have the confidence to visit clients and look good.
It is very uncomfortable for me to walk bare footed, so being able to have my shoes changed makes a great difference to my life – and is worth every penny. I have a pair of slippers in almost every house I stay at!
Bill has given me the confidence to go out there, feel good and not feel like people are looking at me. I hardly have any problems with my neck or back anymore either.
If anyone has similar problems to me, I would urge them to get in touch with Bill and the team at Bill Bird Shoes. They will do everything they can to help make things better for you," Carole Arnold, Shipton-under-Wychwood, Oxfordshire.