We were absolutely delighted to welcome some 30 esteemed guests from the Worshipful Company of Pattenmakers to Bill Bird Shoes' Cotswolds workshop on Friday.
The Worshipful Company of Pattenmakers is one of the ancient livery companies of the City of London, and whilst its original trade has disappeared, it is now an important supporter of the bespoke and orthopaedic footwear sector. Bill has been a member since 2011.
Historically, the Pattenmakers organise an annual trade day where a group of liverymen and women pay a visit to a variety of tradespeople in the UK. Covid restrictions have put paid to outings over the last couple of years, so we were very pleased to host an educational and informative visit to our bespoke orthopaedic workshop, one of their first since restrictions have been eased.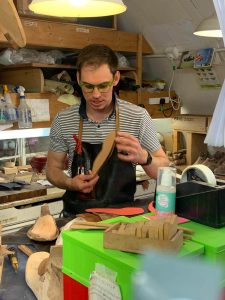 The whistle-stop tour included a display of the online Bespoke Orthopaedic Course that Bill has been instrumental in orchestrating – and which has received generous funding from the Pattenmakers. Bill Bird shoemakers Emily, Rebecca, Chris and George are in the student cohort that are piloting the course and they are set to graduate in July 2022.
Emily, our principal pattern maker and George guided guests through the shoemaking journey, from taking initial measurements and discussing how we help solve clients' fitting and walking difficulties, right through to choosing leathers and designs, making patterns and utilising lasts.
Lasts represent the anatomical form of the foot and are totally unique to each client. At Bill Bird Shoes' Gloucestershire workshop, we hand carve wooden lasts from new air-dried wood in the traditional way in our auxillary workshop – and it was this process that Rebecca and Chris explained, alongside answering questions.
Our guests seemed genuinely fascinated by the dedication and passion displayed by our bespoke shoemakers and it was a joy to show them around. On their trade day, the Pattenmakers also visited Beckford Silk, and attended a black tie dinner at the Lygon Arms in Broadway Saturday evening, which Kate and Bill Bird also joined.