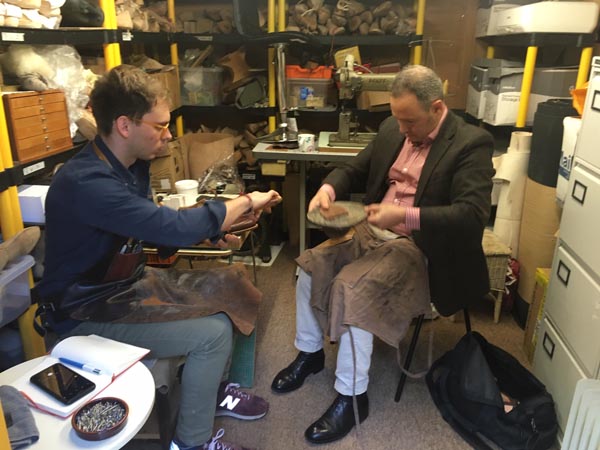 West End shoemaker Mariano Crespo has recently been carrying out some one-to-one training course with our award-winning apprentice shoemaker George Paish in London.
So far, George (pictured left) has had two seven-hour days with Mariano back to back every two or three weeks. This is the sixth session and instead of George going down to London, Mariano came up to visit Bill Bird Shoes at our workshop in the Cotswolds.
Mariano first began learning the art of shoemaking as a teenager in Spain with his father, who worked as a cobbler. As a young adult, Mariano spent many years travelling and exploring the world, until deciding to return to his roots and focus on developing his skills as a bespoke shoemaker.
After training with a Spanish master in the art of making traditional Spanish hunting boots, Mariano went on to secure an apprenticeship with the world-renowned bootmaker, John Lobb in London's West End. During his time there, Mariano provided his services to a wide range of clients, including members of the royal family, famous actors, artists and celebrities.
Mariano now continues the centuries-old tradition of creating exquisitely handcrafted bespoke shoes and boots from his London workshop and passing on his skills to the next generation of bespoke shoemakers.