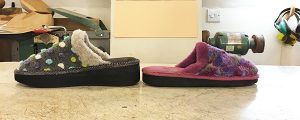 The team at Bill Bird Shoes in central London and the Midlands is skilled in accommodating leg length differences in sensitive ways using the lightest and highest quality materials on the market.
Having a bespoke shoe or boot specially made will ensure that corrections large or small can be achieved. We are experts at correcting leg length differences discreetly and elegantly without adding too much weight to your footwear.
"My mum's name is Doris and she lives in Maidenhead, Berkshire. She had a hip replacement, which left one leg shorter than the other, so she requires built-up shoes.

Bill built up three pairs of shoes and a pair of slippers for Mum. The work took a couple of hours and was carried out whilst we waited. Bill was very thorough in his explanation of what he was going to do and he was patient with an elderly person.

The adapted shoes have made her much more steady on her feet, which is important as we don't want any more broken bones! It will also hopefully put her more into alignment, so excess pressure is not on the other leg or spine," Judith Cavezzale
If you would like to find out how we can help, please call our workshop in the Cotswolds on 01386 700855 or contact us by email.  Consultations to assist in deciding your correct leg length difference, as well as alterations to your own footwear start from £200. This would be for your first pair of shoes if you don't know the amount of correction required and this is because of the amount of assessment and experiment required. If you do know the amount of correction needed on your own footwear, and the correction is less than 20mm, a fee of around £70 would be a good guideline. For minor alterations, please contact our colleague Andy at The Blockley Cobbler on 01386 700115.

There are many ways in which we can end up with leg length differences, such as:
Road traffic injuries
Trauma in childhood
Illnesses such as polio
Differential growth
Birth problems
Hip or knee replacements
Alterations
The simplest way to compensate with corrective footwear is to add extra lift to the heel height of one shoe. This can add up to 6mm or ¼ inch. The same amount can be removed from the heel of the other shoe. When combined, this could make a correction of 12mm or ½ inch.
An insert can also be added inside the rear of the shoe. This can be up to 6mm or ¼ inch in thickness. If too much is added it can feel as if the shoe is slipping off of your foot.
By doing all three of the above, 18mm or ¾ inch of compensation can be achieved without drawing very much attention to the correction at all.
In a boot, even more correction can be built inside because the leg of the boot holds the foot securely even though it is raised up. This way, up to an inch of correction can sometimes be achieved without any change of appearance outside the boot.
When extra material is added under the sole, the heel can be built up even more. Sometimes corrections of 50mm or 2 inches can be achieved this way.
We have a variety of ways of dealing with a 2″ (51 mm) leg length difference. We could make a shoe with a 1″ heel on the long leg and a shoe with a 3″ heel on the short leg. We could also make a shoe with a 1″ heel on the long leg and a shoe with a concealed 2″ cork on the short leg, which also had a 1″ heel. We could do any combination in between. On the front we could have the same thickness of sole on both feet or we could put a platform, either seen on the outside or concealed on the inside on the shoe for the short leg. A lot depends on personal preference. Some people are quite happy to have shoes that look similar, but one is a high heel and the other a low heel. Others prefer to hide it as much as possible with concealed corks.
Please call us to discuss your requirements or to find out more.