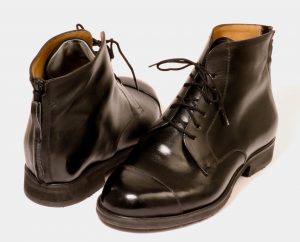 The skilled shoemakers at Bill Bird Shoes in Gloucestershire and London have extensive experience in making stylish, high quality bespoke shoes and boots when gait correction is required.
Our made-to-measure footwear not only provides the ideal platform for orthotic inserts to function but can often do so without compromising their appearance. Our shoes are designed to work in an optimum way with prescription orthotics. We also use exceptional design skills to make stylish and attractive shoes and boots that do not draw unwanted attention to your feet.
Sometimes the way we walk is affected by misalignments in the bones of the rear-foot and lower leg and limited ranges of motion of the foot and ankle. These misalignments can usually be helped by the use of prescription orthotic inserts prescribed by a podiatrist or an orthotist.
There are sometimes problems in prescribing orthotic inserts because they take up room in the footwear and the foot is sometimes already too large for most off-the-shelf footwear. 'Ankle foot orthoses' that go under the foot and up the back of the calf can be especially difficult.
Some types of gait correction can be achieved by altering the sole or heel of an off-the-shelf pair. Sometimes gait correction requires strong support from the shoe itself, either to correct the foot directly or to assist the orthotic insert.
For dressy shoes for occasional evening use, we can make a shoe that accommodates and supports the foot without the use of an orthotic insert. This makes the shoe lighter, slimmer and more elegant.
One of the most successful ways of treating many debilitating conditions is to make a shoe with full contact rear-foot support together with a strongly flared heel block, rocker sole or a sole lifted more on one side than the other. This can sometimes be built into the shoe so that it is hidden inside and cannot be seen by others.
Please contact Bill Bird Shoes for more information about our handmade shoes for gait correction.