The team at Bill Bird Shoes in Gloucestershire and London is skilled at creating bespoke, made-to-measure shoes for people with bunions that are comfortable, stylish and carefully designed to draw the eye away from an enlarged toe joint.
Bunions affect more than 15 million people in the UK. Around 50% of women have some degree of inward bending of the big toe, which often leads to bunions, with 18% men having the same.
Bunions are one of a number of conditions that include an enlarged toe joint. Symptoms may include:
An enlarged and sometimes painful, inflamed ball joint on the outside edge of your foot.
Pain and swelling over your big toe joint that is often made worse by pressure from wearing shoes.
Vulnerable toes with hard, callused and sometimes red skin caused by your big toe and second toe overlapping.
Sore skin over the top of the bunion.
The big toe having limited movement and the lesser toes often curled.
Often, the rear part of your foot is narrower and in need of extra support.
Off-the-shelf versus handmade shoes
People with bunions can wear off-the-shelf shoes for a while but as the bunions worsen with age the shoes can become increasingly more uncomfortable. There is a range of wide fitting shoes on the market. However, common problems with these shoes are;
They may give room over the ball of the foot but get narrower over the toes.
The back part of the shoe is also wide and the foot slops around in it.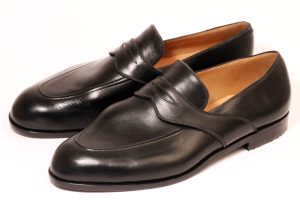 Orthotic inserts
A podiatrist will usually prescribe an orthotic insert, which can help support the rear part of the foot and alleviate some of the underlying causes of the condition. However, there is often not enough room for the insert or it can make a dress shoe look cumbersome.
At Bill Bird Shoes in the Midlands we are skilled at accommodating podiatrists' inserts into made-to-measure shoes so that they work in an optimum way with minimal loss of elegance.
We have a wide range of designs that support the foot and we can even make sling backs and sandals that accommodate and hide the inserts. For more dressy occasions, we can make smart, slim footwear with many of the orthotic functions performed by the shoe itself.
If you would like more information, then please give us a call on 01386 700855 where one of our skilled shoemakers will be only too pleased to help you.