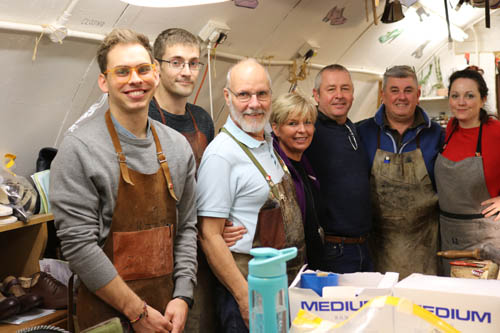 The Bill Bird Shoes team welcomed Tony and Jane Slinger to our Cotswolds workshop today to discuss the 21st Independent Shoemakers Conference they are hosting in Harrogate next February.
Bill, Russell and Emily have plenty of experience of planning and hosting the much-anticipated annual event and were happy to share their tips. This is the first time Tony and Jane, from T Slinger Footwear, have hosted the event – and they have lots of great ideas up their sleeves!
The conference, taking place on February 22nd – 24th at the Old Swan Hotel, is set to attract shoemakers from across the world, including Lisa Sorrell, America's finest cowboy bootmaker and Swedish bespoke shoemaker, Carina Eneroth.
The event will include lots of different topics, talks and workshops about shoes and feet and we are very much looking forward to attending.