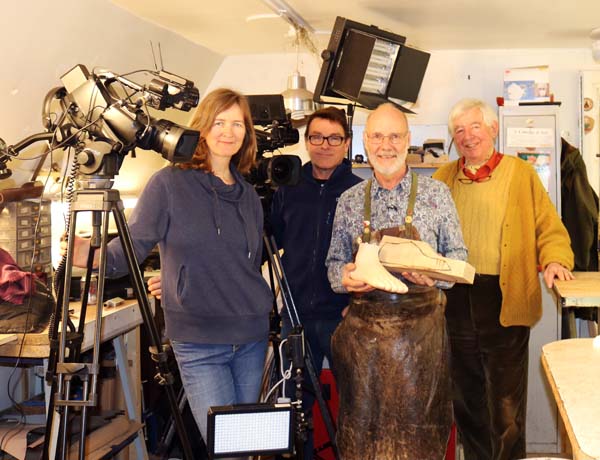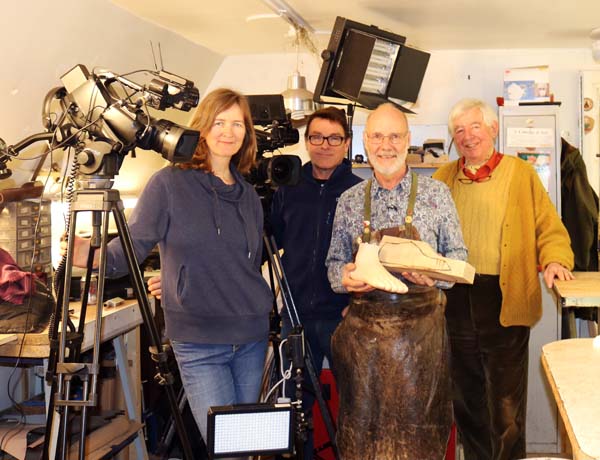 At the age of fourteen Bill Bird had a foot problem that was making walking more and more difficult. The pain and discomfort of this condition not only led him to a career as a top bespoke orthopaedic shoemaker in the UK but to a starring role in a video teaching programme about his work, aimed at a worldwide audience.
Now aged 68 and a leading light in his profession, Bill recently attended the launch of the programme at a special showing to an invited audience of British and international footwear specialists at a gala dinner in London.
Bill's wide-ranging skills and knowledge were amassed over more than 40 years as a shoemaker and last-maker in London's West End and through his own thriving small business and workshop near Moreton in Marsh.
The filming was done at his workshop following an idea from Cotswold philanthropist Richard Paice and produced by Herefordshire based filmmakers, Artisan Media.
The series of 23 teaching videos – the result of 250 production hours – are now available worldwide on their own YouTube channel. As Bill's legacy to all aspiring specialist shoemakers, they are also completely free of charge.
The films outline how he has developed his work into specific, measurable and transferable skill sets, each holding the unique keys to helping the wide variety of foot and ankle conditions that can blight people's lives.
The video series focuses on the highly specialised skills needed for making elegant, stylish footwear for people with fitting and walking difficulties and are freely available to footwear designers keen to follow a career in bespoke orthopaedic shoemaking.
"The videos encapsulate my life's work – and I hope they will be my lasting contribution to bespoke orthopaedic shoemaking," explained Bill.
"They will help teach the next generation of bespoke shoemakers how to measure, diagnose and treat a huge variety of very serious foot problems and thus help change the lives of anyone with foot difficulties.
"Bespoke shoemakers with an interest in this area can learn and apply what I have gleaned over the last 40 years to upgrade their skillset and this will help to keep this essential craft tradition alive and thriving."
Bill has been in the bespoke shoemaking industry for more than four decades during which he gained his skills and intuitive understanding from 11 years with Royal Appointment bootmaker, Lobb of St James' and 30 years developing the business at the Northwick Business Centre, which now employs seven craftspeople. His shoes and boots have improved the lives of countless individuals and service personnel during this time. At the same time he has spent 12 years as a lecturer on bespoke footwear at De Montfort University.
London premiere
The films were launched recently at the 19th Annual Footwear Dinner of the Worshipful Company of Pattenmakers at impressive Saddlers' Hall that stands just a few yards from St Paul's Cathedral. The footwear dinner is a major event in the Pattenmakers' calendar.
The Worshipful Company of Pattenmakers is one of the ancient livery companies of the City of London, and whilst its original trade has disappeared, it is now an important supporter of the footwear sector. Bill has been a member since 2011. He is also a Freeman of London.
Richard Paice, a Past Master of the Worshipful Company of Pattenmakers generously funded the entire filming and production process. He remains an instrumental member of the Pattenmakers Company Charitable Foundation, whose main beneficiary is the design and bespoke fabrication of orthopaedic shoes, particularly for injured British servicemen at the Defence Military Rehabilitation Centre at Stanford Hall in Leicestershire. This trust has funded bespoke orthopaedic footwear for more than 60 ex-servicemen and women to date.
Some 70 people watched the premiere at a private viewing. This was followed with a Q&A session with Bill and Richard, as well as an insight from an ex-serviceman of the British Army, who was injured in Afghanistan, into the importance of bespoke orthopaedic footwear.
The films have now been handed over to the care of the Pattenmakers and feature on a YouTube channel for all to see.
"I am very impressed with the quality of what Dave and Lynwen Brown from Artisan Media have put together and also the support and interest that the Pattenmakers are putting into the project," said Bill.
"There is a lot of educational material about making made-to-measure shoes available on the internet, however here viewers will learn how to help transform a person's life through applying the concepts of the bespoke orthopaedic shoemaker.
"By making the right decisions at every stage of the shoemaking process, bespoke orthopaedic shoemakers not only help clients recover their mobility but their self-worth and self-confidence.
"There are over 60 medical conditions affecting the foot, all of which I have found, through experience, can be assigned to one or more of only eight condition categories. For instance, diabetes, which is a growing problem, can be treated through understanding four condition categories associated with this disease. I address all of these in detail and clearly show the appropriate methods and techniques to deal with each one."
The legacy does not end with the videos. Bill and his team are happy to answer questions or help solve queries from bespoke orthopaedic shoemakers across the world through the YouTube platform.
"As I begin to slow down in the latter half of my 60s – shoemakers never retire by the way – I feel enormous gratitude that the skills I was given 40 years ago are being taken up, added to and improved by the next generation," he concluded.